We know that people may want to try a waterbed for the first time, or may simply want to return to a waterbed, but they may have bedroom furniture that they don't want to get rid of. If you have a bed that supports a normal mattress, then chances are we have a simple solution to get you back into a waterbed whilst using your current furniture.
A big part of what we do at Waterbed World, is to renew pre-existing furniture and retrofit it so that you can enjoy the benefits of wonderful water. If you have a bedroom suite that is still in great condition, and can support a industry standard Single, Double, Queen or King mattress, then chances are we can create a simple solution to get you sleeping in comfort. We can convert basic timber frame / slat beds, to elaborate 4 poster beds and anything in between. We can also add extra storage underneath to maximise space.
It can be surprisingly simple to transform existing furniture which supports innerspring mattresses to a base that can support a waterbed. In most cases a little bit more structural support is needed to support the weight of the mattress. This can be surprisingly simple to do. We have transformed hundreds of beds over the last 25 years, and have found that there aren't too many bedroom suites that can't be converted to waterbeds.
We can add wheels to some waterbeds so that you can move the bed around in your bedroom. We use heavy duty metal castor wheels and not the plastic ones. Although the weight of a waterbed is heavy, a waterbed with wheels can be moved around by a single person.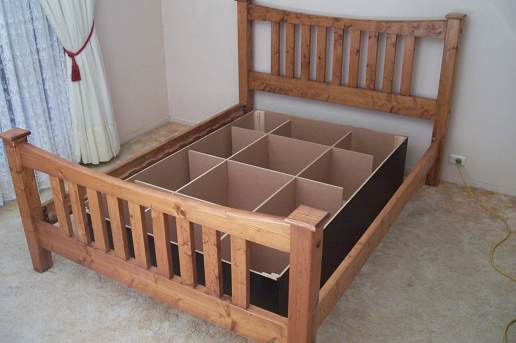 All of our beds are manufactured to the highest standards in our Jimboomba factory, and all can be customised to suit you and your needs. Want a higher bed to make it easier to get out of – we can do it. Want to keep your current furniture but still want to sleep on heavenly water – we can do it. Want a brand new bedroom suite custom made to your needs – we can do that too.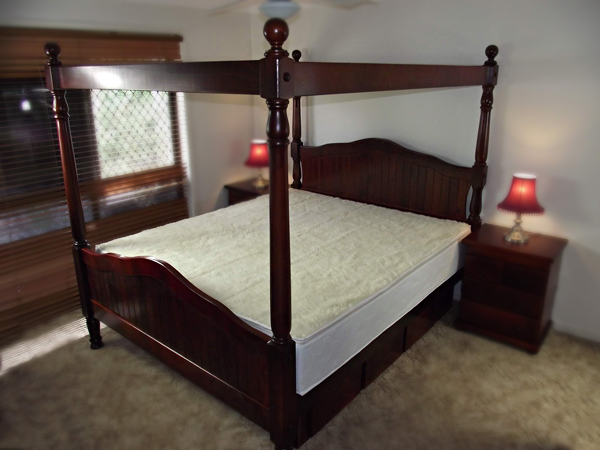 We have a range of handmade headboards on display at the Chermside Waterbed Shop. Our craftsmen can custom make a bedroom suite that suits your needs. We have a range of headboards below that you can look at. If one headboard is not quite right for your needs, just ask us and we will let you know if we can modify it to meet your needs.
We have many different styles of headboards and bed frames available. We hand make all our furniture and finish the wood in your preferred finish. There are samples of both the material (for padded furniture) and wood grain finishes in our Chermside showroom and here.